It's not often that a product has the longevity to successfully span decades in any market. Then again, Data Domain was never just any product. Data Domain spearheaded one of the most disruptive technology shifts in IT by leading backup from tape to disk-based systems. And along the way, it helped create the Purpose Built Backup Appliance market. Since IDC has been tracking this category, Dell EMC has been the revenue leader. Over this time Data Domain has consistently set the bar for innovation and customer value and today, is recognized as the industry's most scalable, reliable, cloud-enabled backup appliance. Today we begin the next chapter with the introduction of the next generation of Data Domain; PowerProtect DD Series Appliances.
The announcement of PowerProtect DD Series Appliances coupled with several other new data protection enhancements positions the Dell EMC data protection portfolio for continued leadership. Our customers can be confident that their data will be protected from edge to data center to cloud, now and into the future. Play VideoPlayMuteLoaded: 10.97%Remaining Time -1:30Fullscreen
PowerProtect DD – The Ultimate Protection Storage Appliance
Continuing a legacy of never-ending innovation, PowerProtect DD Series Appliances deliver next generation capabilities to help organizations transform data into value.
Fast, Efficient, Secure
Industry Leading Multi-Cloud Data Protection
Expands Multi-Dimensional Appliance Portfolio
The PowerProtect DD Series Appliances include three new physical appliances, including the PowerProtect DD9900, DD9400 and DD6900, as well as the existing DD3300. It also includes a software-defined appliance in the PowerProtect DD Virtual Edition.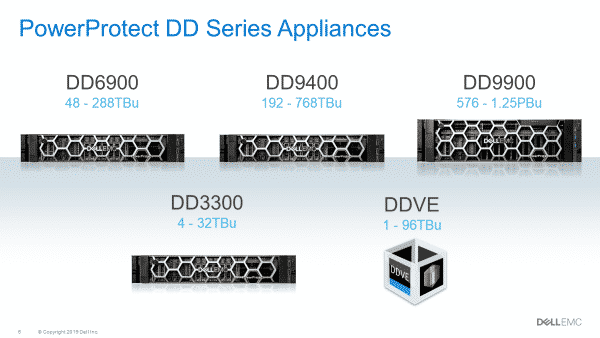 Fast
Performance is paramount in a world of relentless data growth, not only to protect data quickly, but also to accelerate recovery in order to ensure availability. PowerProtect DD will deliver up to 38% faster backups and 36% faster restores. Time is everything when recovery is on the line and PowerProtect DD continues to slash the time required to get back up and running with faster instant access and restore. Up to 60K IOPS supporting as many as 64 concurrent virtual machines represents a 50% increase over what was previously available. These capabilities not only improve recovery times but also help organizations drive data reuse, whether it be for analytics, development, test and more. To deliver faster networking compatibility the new appliances also support 25GbE and 100GbE.
Efficient
Doing more with less has become the new normal. In order to drive improved TCO gains, PowerProtect DD delivers new levels of storage efficiency. PowerProtect DD9900 can support 25% more capacity with 1.25PB usable storage. Efficiency improvements drive up to 62.5% more effective capacity in a single rack, a remarkable 81.3PB.
Ranging from 48 TB to 1.25 PB, the new PowerProtect DD models deliver up to 30% more logical capacity and 65:1 data reduction. Rack space is reduced by as much as 39% and customers will have the option of grow-in-place expansion.
Secure
To meet growing security concerns, PowerProtect DD appliances support the latest update to our Cyber Recovery Solution by delivering a unique Cyber Recovery Vault. Additionally, Dell EMC PowerProtect Cyber Recovery now supports PowerProtect Software deployments, provides integration with third-party options, and UI improvements to simplify management.
Industry leading multi-cloud protection
PowerProtect DD carries forward support for all previous cloud capabilities including native tiering to the cloud, a broad ecosystem of backup applications for both public and private clouds, and cost-effective disaster recovery from AWS, Azure and VMware Cloud on AWS. Support continues for PowerProtect DD Virtual Edition in the public cloud to provide backup and replication in hybrid cloud environments.
Expanded multi-dimensional appliance portfolio
PowerProtect DD further strengthens the foundation of the Dell EMC multi-dimensional appliance portfolio, providing customer choice for expansion depending upon workloads. Scale-up with PowerProtect DD Series Appliances and Integrated Data Protection Appliances or scale-out with the PowerProtect X Series Appliances. PowerProtect DD is the preferred target appliance for PowerProtect Software and will continue to support the Data Protection Suite of products and solutions.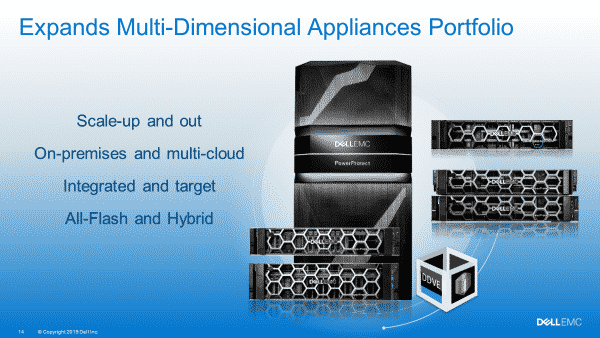 Finally, we are pleased to introduce the first enhancements to PowerProtect Software under our new quarterly release cadence. The new release will support Cloud Disaster Recovery with PowerProtect DD and Data Domain, new self-service restore capabilities for VMware admins, and through integration with Storage Direct, PowerProtect Software can leverage PowerMax snapshots to deliver high-performance backup and restore to minimize production impact.
Data management at global scale
As we look to the future of data protection and management, and the evolving requirements of our customers, we continue to extend our vision of scale. The next generation of scale will require capabilities beyond today's expectations, we call this data management at global scale.
Data management at global scale will augment our software defined data management platform and multi-dimensional appliances and enable our customers to not only manage, protect and recover data efficiently, but with high performance, security, simplicity, and flexibility at exabyte scale. Delivered in phases, data management at global scale will provide unique capabilities for not only our appliance portfolio, but for multi-site and hybrid multi-cloud environments. Stay tuned for more.
If you enjoy reading this blog, you might enjoy reading New Threat Predictions for 2020
Here at IT Vortex, we offer a FREE Fortinet CTAP assessment. If interested contact us to schedule your FREE assessment.