We know the world is facing challenges today that are complicated, multilayered and can sometimes seem insurmountable. However, in the face of this, I remain optimistic about our future. I believe in the transformative power of passionate people, who when equipped with technology can create real change and material outcomes for society.
I witness this every day. Whether formal or informal, I see the efforts of thousands of Dell Technologies team members, customers and partners across the globe having incredible impact. Some of our most impactful programs – solar-learning labs, Digital Lifecare, closed loop recycling – have started as ideas from individuals at Dell with the passion and talents to transform our world.
Today we launched Dell Technologies' 2030 Progress Made Real Plan. The long-term goals outlined within are grounded in the belief that technology and data combined with human spirit are, and will always be, positive forces in the world.
The 2030 goals include:
Recycle an equivalent product for every product a customer buys
Lead the circular economy with more than half of all product content being made from recycled or renewable material
Use 100% recycled or renewable material in all packaging
Advance the health, education and economic opportunity of 1 billion people
Digitally transform 1,000 nonprofit organizations
Encourage 75% of team members to participate in charitable giving and volunteerism in communities
Educate 95% of all team members on an annual basis about unconscious bias, harassment, micro-aggressions and privilege
Deliver future-ready skills development for workers in their supply chain
The full set of goals are comprehensive, aligned to our core business priorities and supported at the very top. They are bold, but practical, and rooted in real action happening today.
They center around four focus areas: advancing sustainability, cultivating inclusion, transforming lives, and upholding ethics and data privacy. And they drive measurable impact for all stakeholders – employees, customers, and communities we serve.
They also build on a strong foundation.
In June, we announced early completion of many of our 2020 goals. For example, through our well-established global recycling network, we reached a 2020 goal of recycling 2 billion pounds of used electronics. Through strong partnerships with the Government of India and our customer Tata Trusts, we deployed a cloud-based analytics solution to deliver preventive healthcare to remote villages, reaching 11 million people who would otherwise not have these services.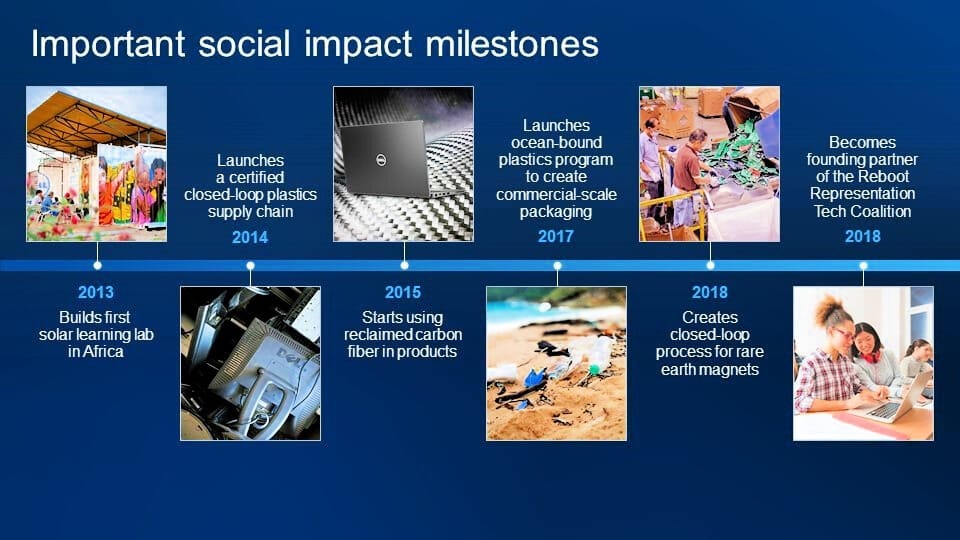 Over the last decade, thanks to the Dell match, which matches each team member's donations up to $10k annually, team members gave $244 million to serve their communities.
We know the future will bring new challenges. It will require new collaborations and innovations, including many that we can't predict today. We're still uncovering how we'll achieve some of our goals – but we know the significant change we'll make starts with our deep commitment.
It starts with a focus on fostering an environment where inclusion and service are valued and encouraged. Great ideas come from anywhere, so we will continue to find ways for our team members to voice their opinions and provide their input on our social impact agenda.
And it's grounded in our commitment to remain optimistic in the face of challenges. Optimism is the single greatest force in achieving social impact. It's that core belief that there is always more we can do. And optimism sustains our belief that we will influence the outcome. Technology will solve problems. People will solve problems. Regardless how challenging they are, there are innovations and commitments we can make to solve them.