Hart Hoover, one of VMware's senior Kubernetes solution architects, recently published a great blog titled "Four Features of VMware Tanzu Mission Control that Kubernetes Architects are Most Excited About". The article highlighted features that will be delivered as part of a new VMware Tanzu offering that was announced at VMworld USA.
Tanzu Mission Control enables enterprises to unify the management of their Kubernetes clusters, irrespective of which Kubernetes platform (PKS, EKG, AKG, etc) those clusters were created on or which cloud environment those clusters are deployed on. Tanzu Mission Control delivers the "Manage" capability from Tanzu, which also includes capabilities to "Build" and "Run" modern apps.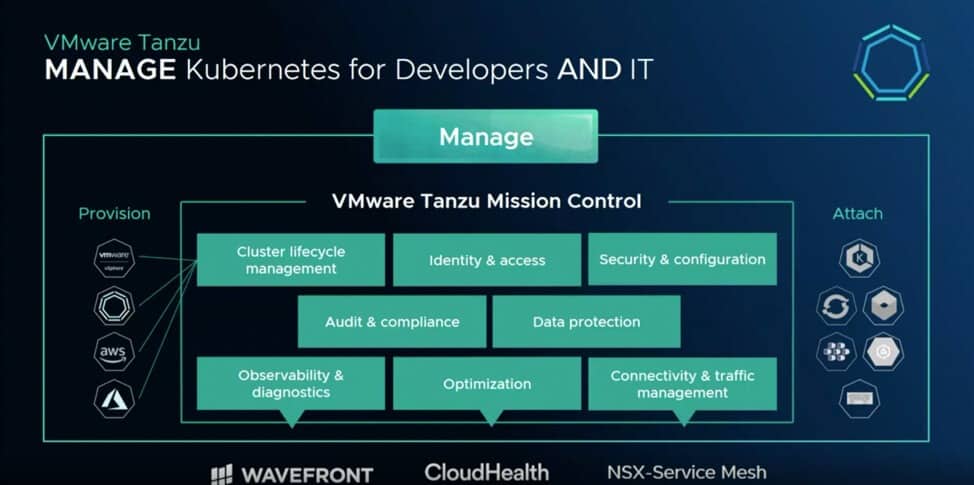 Hart's blog talks about 4 features that he thinks Kubernetes architects will love: Centralized Lifecycle Management, Unified Access Management, Back Up and Restore, and Security and Configuration Management. Those four features align directly with four of the capabilities shown in the architectural diagram below.
In upcoming blogs, John Harris, senior Kubernetes solution architect, will look at how Tanzu Mission Control interacts with other VMware products such as Wavefront, CloudHealth and NSX-Service Mesh to address issues of application observability, resource and cost optimization, and network connectivity and performance across one or more clouds. John will also take a look at how we expect Mission Control to integrate and interact with Kubernetes platforms including VMware PKS, AWS EKG and Azure AKG. Stay tuned.
Learn More About How VMware Can Help Accelerate Your Development Initiatives