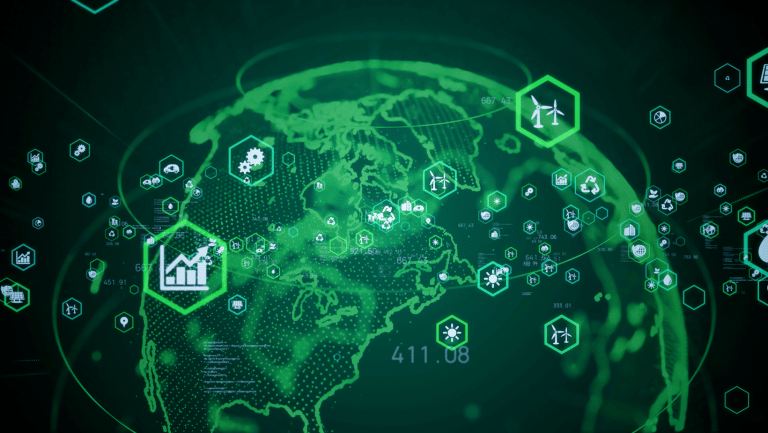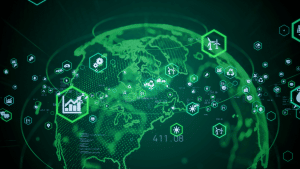 IT executives are taking a closer look at operations and adding environmental sustainability to IT processes.
The growing commitment leads them to the cloud where sustainable IaaS services make a significant contribution.
Server Farms, the New Energy Guzzlers
For decades, IT operations managers have been hindered by the challenges of putting sustainability concerns into action. From IT closets onsite to cloud-based server farms, IaaS services use loads of servers and consume vast amounts of energy.
In IaaS services, energy consumption is a mixed bag
Released in early 2022, an MIT Press Report described the energy demand of cloud computing as exceeding that of the airline industry – "A single data center can consume the equivalent electricity of 50,000 homes."
How can sustainable IT service providers argue that cloud-based operations are more environmentally sound than on-premises options?
Looking at the Big Picture
There are 3 sustainability challenges enterprise organizations face concerning data center energy operations:
Government mandates: Foresighted IT operators know sooner or later, government requirements to become carbon neutral and facing fines (or worse) will be on their to-do lists.
Greenhouse gases: Many enterprise companies are moving in the right direction concerning fossil fuel usage. They are transferring onsite fossil-fuel-based data center operations to IaaS operations. These are powered by renewable (often solar) resources, located off-premises, and managed by third-party hosts in the cloud. These larger data centers either leave the grid or add to it with solar power as an offset.
Electricity consumption: Cloud-based data centers achieve extremely high virtualization rates. These are usually measured on newer and more efficient hardware than what's used for on-premises environments. The level of renewable energy use is also increasingly high – sometimes close to 100%.
Hyperscalers (large-scale, global IaaS providers) help drive the use of power purchase agreements (PPAs). These contracts secure and fund renewable energy supply from various worldwide sources. Amazon has 13.9 GW of contracted PPA power,  while Google has finalized an 8-GW PPA.
All data centers are energy-hungry operations; however, cloud-based data services operate much more efficiently than any on-premises server farm can manage.
Usually, this advantage is attributed to more efficient use of energy. However, recent models of carbon footprint reduction for data centers have a broader scope than straightforward efficiency ratings.
Table 1 below provides some factors described in a 2022 review of the entire server lifecycle.
Reducing Carbon Footprints with Sustainable IaaS Services

Server Life Cycle Stage
Cloud Hosting Capability
Description
Materials Sourcing/ Manufacturing
Purchase fewer servers
Migrating to cloud-hosted operations saves capital costs (buying new servers and other hardware) and avoids greenhouse gas emissions that occur during hardware manufacture.
Use more renewable energy
Many cloud data centers use renewable energy sources with energy-generating facilities.

44% of the electricity used by Microsoft Azure data centers today comes from renewable sources.

Server Use &  Operational Efficiency
Improve power usage effectiveness (PUE)
PUE is the total electricity consumption at the data center to the electricity delivered to IT hardware. Cloud data centers operate at a low PUE, ranging from 1.12 to 1.3. Microsoft Azure data centers run at a PUE of 1.125.
Improve server efficiency
Hyperconverged cloud infrastructures run at more than 70% utilization compared to 15-20% average utilization. Fewer servers do the same amount of work but consume less electricity.

Increasing the utilization rate from 10% to 40% enables a server to process 4 times the previous load, even though the power draw by the server may only increase 1.7 times. (See Figure X below)

Engage right-sizing
Avoids running too many servers by emphasizing app availability and overprovisioning of IT resources.
Engage dynamic provisioning
Cloud computing ops match server capacity to actual demand to minimize wasted hardware resources.
As the International Energy Agency (IEA) notes, "Global data center electricity use in 2020 was 200-250 TWh or around 1% of global final electricity demand."
Impending future demand challenges us to provide IT solutions that solve customer problems, accommodate rapid growth in demand, and enable the global energy infrastructure to catch up.
Where do these efficiency improvements come from?
Application profiles, usage patterns, renewable energy sources, and the above innovations provide roadmaps to take advantage of any sustainability benefits.
For example, after applications are installed in the cloud, hyperscalers offer tools to optimize the ongoing efficiency of those applications.
IT Vortex Sustainable IaaS Services for IaaS Clients                                
Providing our clients with sustainable IaaS services is one way to help cut greenhouse gases and energy use in IT operations. Getting involved in the global effort ourselves is another way to encourage, lead, and support our clients to go zero-carbon.
Committing to VMWare Zero-Carbon Operations
With the lead-from-the-front approach to developing sustainable IaaS services, we've taken the plunge. IT Vortex is committed to powering our data centers with 100% renewable energy by 2030. (Since 2020, we've already achieved 25% of our goal.)
As a VMware verified provider, we empower our clients to:
Reach sustainability and decarbonization goals by using the capabilities of the VMware-based cloud infrastructure.
Accelerate the move to a zero-carbon internet footprint.
Enable sustainable computing by using VMWare software-defined data center (SDDC) technology.
We Walk the Walk
IT Vortex is implementing practices to achieve a net-zero carbon footprint for client operations and our own progress. This requires decisions large and small to reduce energy consumption and greenhouse gas production.
These design and operational improvements include:
LED lighting
Magnetic levitation chillers (water-cooled)
Ambient air used to cool data centers
Retrofits of variable-frequency drives used in major motor-driven equipment items
Smart temperature controls
Lou Corriero, VP of Cloud Technologies at IT Vortex, summarizes the company's commitment, saying,
"We believe sustainability is made genuine and real by many small, conscious decisions. As a company, we feel the need to educate and persuade our clients, vendors, and distributors to follow.
The cloud computing market is poised for massive growth that will require more energy, but if the largest source is consumed in green data centers rather than in on-premises environments, it will make a larger positive impact."
Download the IT Vortex ebook and learn how to achieve your sustainability goals.
Contact us to increase the efficiency, security, and sustainability of your IT infrastructure.
IT Vortex
237 W Midland Ave
Paramus, NJ 07652
(844) 704-0684